Podcast #319 – The Neon Genesis Evangelion Episode
Sean and I finally talk about one of anime's most iconic runs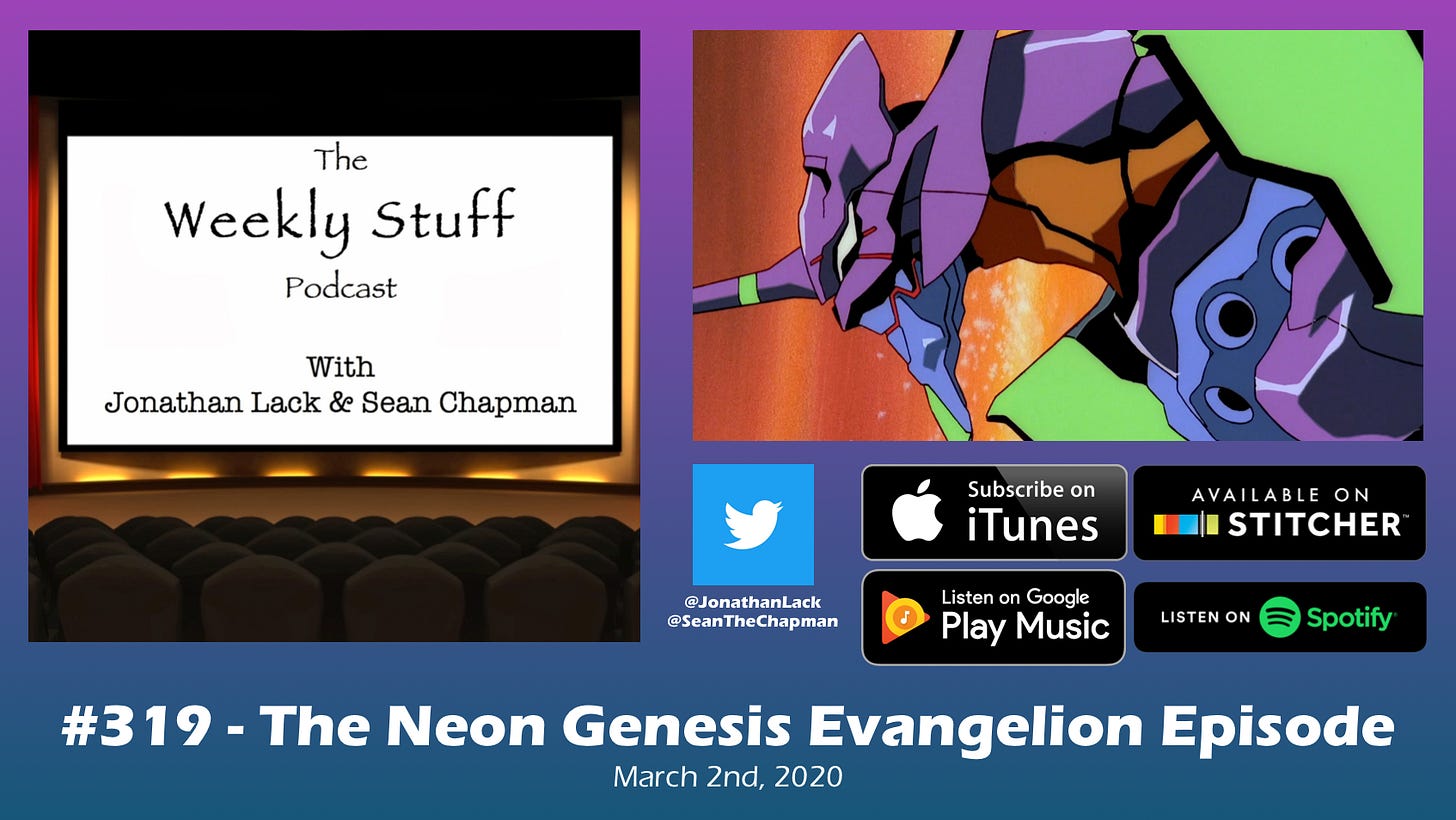 If you didn't know, my friend Sean Chapman and I don't just host one podcast together – The Weekly Stuff Podcast – but two! Last summer, we started Weekly Suit Gundam, which was originally a miniseries where we went through the original Mobile Suit Gundam anime from 1979 together, me for the first time, Sean as a Gundam veteran. It was a lot of fun, and I got hooked on Gundam hard, so the series is continuing indefinitely, with 13 episodes in the can covering Zeta Gundam, ZZ Gundam, Victory Gundam, Unicorn Gundam, Char's Counterattack, Gundam F91, and more. 
What's funny is that the impetus for this entire project was Netflix getting the international rights to Hideaki Anno's 90s classic Neon Genesis Evangelion last summer. Like every other podcast on Earth, we were going to do an Evangelionwatch-through at some point, but by a series of events I don't entirely remember, Sean convinced me that we should watch Gundam – a progenitor of and inspiration for Evangelion – instead, and thus Weekly Suit Gundam was born. 
Well, now we've finally come full circle, and this week's podcast is the Neon Genesis Evangelion episode we had promised almost a whole year ago. It's a really good conversation, though I suspect hardcore Eva fans might despise the two of us by the end. The podcast was recorded as an episode of Weekly Suit Gundam, and you should definitely take a look at the YouTube version of that one, if for no other reason than the intro I spent way too much time putting together for this one (it's not every week you get to play around with "Cruel Angel's Thesis," you know?). 
We also include the conversation in this week's episode of The Weekly Stuff Podcast, where we also talk about the recent Dragon Ball FighterZ DLC and Season 3 updates, and go over a few pieces of recent news, including new details about the Xbox Series X. 
You can subscribe to The Weekly Stuff Podcast here to listen…
…and you can subscribe to Weekly Suit Gundam here for the audio version of that one.
There may or may not be a podcast next week, depending on scheduling, as I am attending a funeral over the weekend and may not have time to record. Hopefully, checking Evangelion off the list after all this time makes up for it.